Image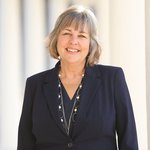 Bio
Mary Brackett joined OE as a senior associate in 2014. She provides leadership, support, and consulting for pan-institutional projects and the overall OE program. Additionally, Mary has managed several major institutional projects involving diverse stakeholder groups, including a redesign of the University's major capital program and a benchmarking project of six administrative functions that included input from thousands of faculty, staff, and students.
Prior to her current role, Mary served as the director of HR applications and strategic planning at UVA, where she led the design and implementation of many enterprise applications. Mary has been with the University since 2001.
A lifelong learner, Mary earned her MBA, completed the Educause Institute Management program, and holds certifications in Darden's design thinking framework, Ideo's Storytelling for Impact and Creative Collaboration programs, and Prosci Change Management.
Mary also serves on the Board of the Network for Change and Continuous Improvement, volunteers at the University of Virginia hospital, and is a member of the Prosci Return to Work Advisory Board.